The most accurate time clock in construction.
Powered by biometrics and AI, SmartBarrel completely automates time tracking and guarantees 100% accuracy.

So no fraud, bullsh*t, or excuses.
Saved per worker per year
Saved at head office weekly
Leave your clipboard in the truck.
With SmartBarrel, you won't need it.
Mount SmartBarrel's magnetic, solar-powered, LTE-connected time clock anywhere on your site.
Workers punch in and get their photo taken. All clock-ins are verified with advanced biometrics.
Easily add cost codes to every shift. Split shifts and carry over cost codes to the next day.
Automatically send verified labor data to your payroll software, saving hours on manual entry.
SmartBarrel is a truly plug-and-play solution, ready to go as soon as it arrives on your site.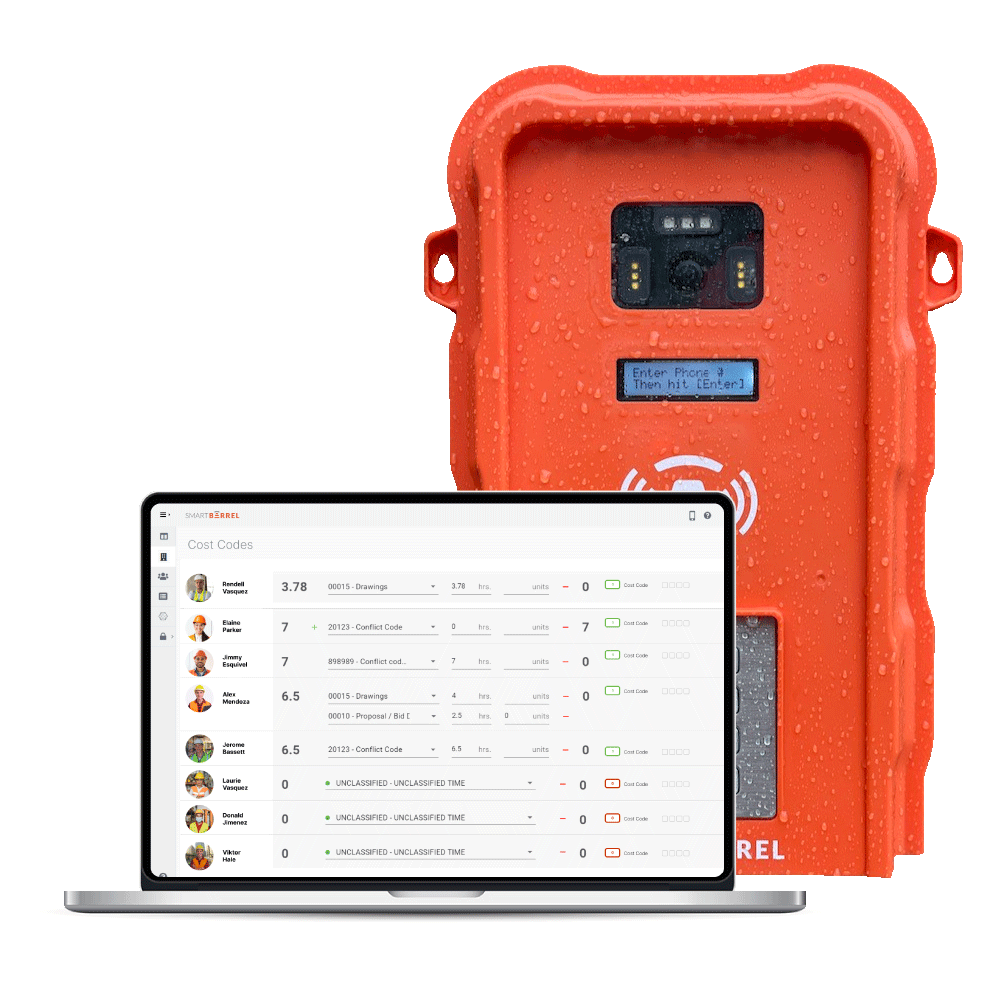 SmartBarrel saves you more than $4,285+ per worker and 800 hours+ on manual entry work -- every year.
Easy cost code assignments.
Use SmartBarrel's multi-platform dashboard to easily add cost codes to every task, shift, and phase.
SmartBarrel integrates with virtually any construction software on the market, including:
SmartBarrel doesn't just help you track time. It helps you report, analyze, and manage your job sites.
No more time tracking headaches.
Stop letting payroll and time tracking issues hold you back. Discover how SmartBarrel can empower you to regain control and peace of mind. 
"SmartBarrel was an obvious choice: a simple solution that provides very high quality, useful data."
SmartBarrel fits a lot of our needs as a contractor. It's very unique, it's construction-oriented."
"SmartBarrel is very easy for our crews to use, and we can manage it from the office."