Construction Cost and Productivity Tracking Solution
Automate cost tracking. Get back on budget.
Completely automated labor and productivity tracking. Intuitive, easy-to-use project cost reports. Real savings.
Saved per worker, per year
Saved at head office every week
SmartBarrel uses an AI-powered time clock to automate data-collection from the field and an intuitive software to easily assign cost codes and track project profitability.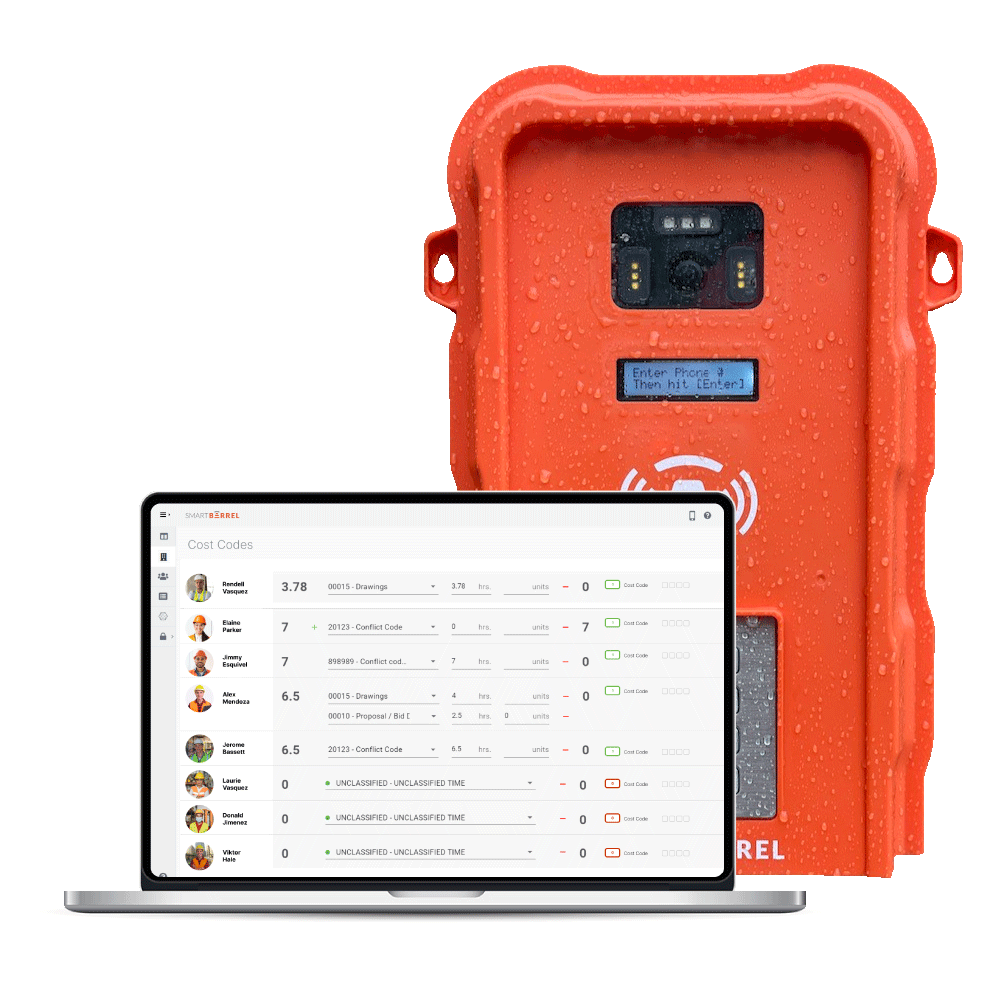 SmartBarrel's time clock uses AI-powered biometrics to verify who worked and for how long with 100% accuracy.
Tag cost codes directly from the site using SmartBarrel's intuitive, easy-to-use dashboard.
Easily compare your labor estimates to actual labor costs for every project — in real time.
How SmartBarrel's construction productivity tracking helps you keep project costs under control.
Mount SmartBarrel's AI-powered time clock anywhere on your jobsite, sync worker data, and start using it within 5 minutes.
Automate data collection.
As workers sign in, all labor hours are automatically tracked and assigned to the correct project. No manual entry required.
Tag each worker shift with the correct task or phase using and easily split shifts across multiple cost codes.
Get your projects on track.
Compare your estimated labor against actual labor. Measure worker efficiency with production tracking. All in real-time.
Your construction cost tracking dashboard.
Effortlessly track and manage construction labor across projects.
By eliminating buddy punching and time tracking errors, SmartBarrel saves you money on its first day of use. Contractors see an average savings of $4,285 per worker, per year.
With 100% accurate time tracking and real-time reporting, SmartBarrel ensures your labor costs will never catch you off guard again.
Save hours on manual entry and reporting. Automatically send labor and productivity data to Procore, CMiC, and PowerBI. Export reports to Excel with one click.